Annual Research on Cities Summit (ARCS) 8.0
Future of Sustainable Urbanism in the Global South
School of Human Settlements
XIM University, Bhubaneswar, India
The 8th Annual Research on Cities Summit focuses on experiences, initiatives and insights into urban sustainability efforts in the cities of the Global South. SDG 11 – developing sustainable cities and communities – clearly flags the importance of greening cities in achieving global sustainability. Moreover, sustainability transitions are most urgent in cities of the global South, which are likely to take the brunt of the physical, economic and social consequences of climate change. Over 60 percent of the areas projected to be urban by 2050 are in these parts of the world; 30 of the existing 40 megacities are in the South and more are set to emerge in the next decade. Urban areas in the South are thus pivotal in the efforts toward global sustainability; greening urbanism in the Global South will be crucial in addressing the broader sustainability challenge.
Policies, strategies, and technologies for sustainability transitions in the global South are frequently shaped by the experiences and expertise of the global North, mediated through vectors like consultants, development organizations, or knowledge networks. This one-way transfer overlooks the varied implications when these practices intersect with the distinctive realities of Southern urbanism. Global strategies for sustainability, such as compact cities, green spaces, renewable materials, green transportation, circular economies, or blue-green planning, may encounter unique challenges in Southern contexts, given the pressing issues like poverty eradication, affordable housing, access to basic amenities, and governance capacity.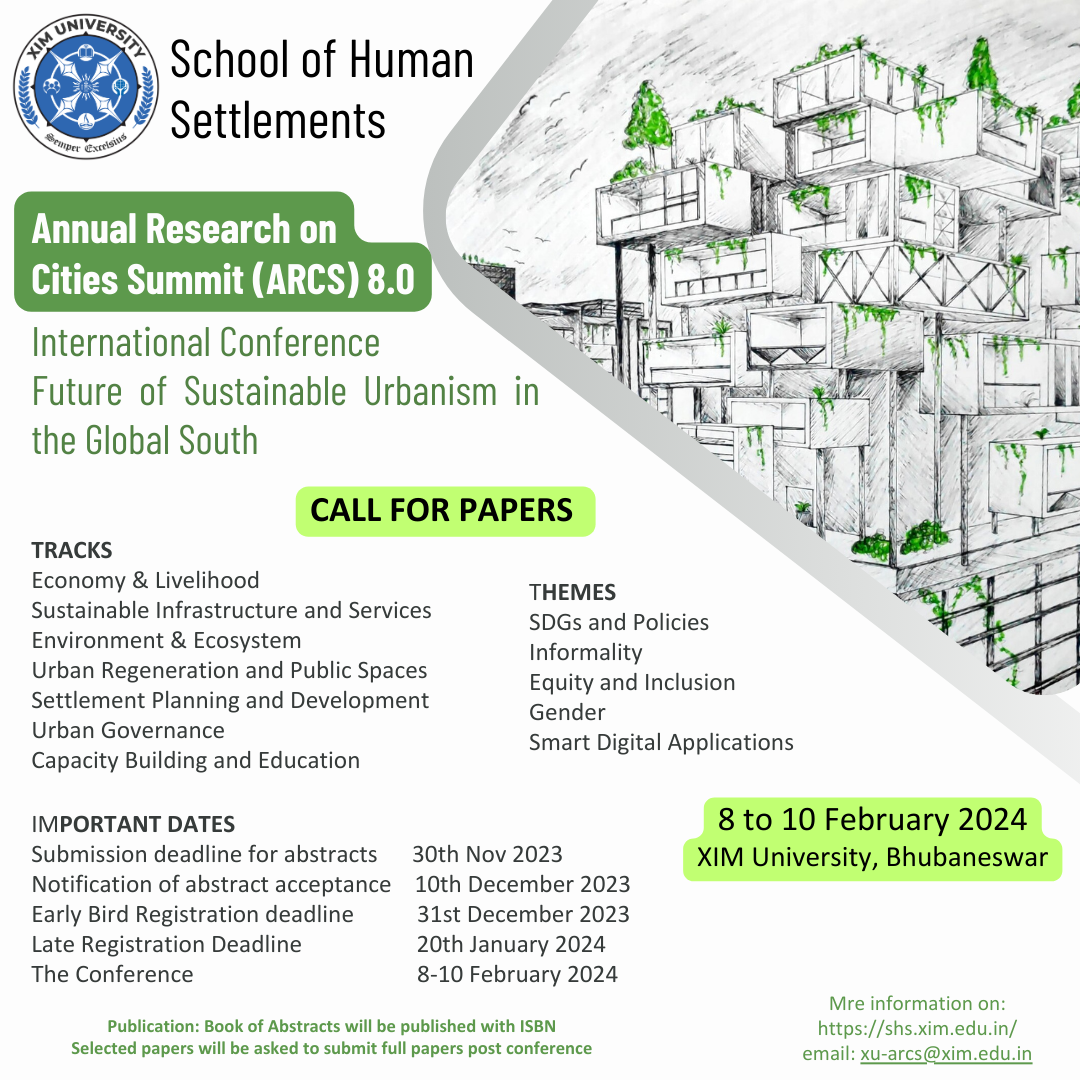 On the other hand, local values, practices, and perspectives that shape the understanding and vision of sustainability in Southern contexts are frequently marginalized in global epistemic networks and policy discourses. This dynamic illuminates the need to focus on local ideas, perspectives and initiatives in these contexts; to pay attention to the ways in which Southern cities respond to sustainability challenges. It also prompts inquiry into how global sustainability discourses are adapted or innovated locally and the kinds of outcomes which emerge. It is vital to acknowledge the unique challenges faced by these cities and the innovative solutions they develop in response, including a potential resurgence of traditional sustainable practices. This Conference therefore seeks to elicit work which documents, explores and critically examines sustainability efforts in Southern contexts.
Papers, cases, reports and final year thesis on project and process experiences are invited from researchers, professionals, students, civic and policy actors on the questions of sustainable settlements in the global South for presentation at the International Conference on Future of Sustainable Urbanism in the Global South, ARCS 8.0. The submission should be the original work of the authors. Submissions may relate to any one or more of the tracks. The authors should clearly state their intended track(s) in their registration.
The Conference tracks are structured along the typical urban systems (also termed sectors) such as housing, water, sanitation, transportation, etc. However, cities of the global South are rife with endemic issues such as informality, inequity and exclusion, fractured governance and poor capacities. Programmatic support and interest in digital applications also inform emerging sustainability efforts. Gender issues are less discussed but innovations for inclusive development are also emerging. We urge authors to explore one of these issues – or themes (SDGs and Policies; Informality; Equity and Inclusion; Gender; Smart & Digital Applications ) – within their tracks. The tracks and themes are given below:
THEMES

SDGs and Policies

Informality

Equity and Inclusion

Gender

Smart & Digital Applications

Sustainable Infrastructure and services

Urban Regeneration and Public Spaces

Settlement Planning and development

Capacity building and education
Track 1: Economy and Livelihood
This track will address the issues of economic development, growth, and creating equal, secure, and decent livelihood opportunities for all. It will answer the questions of sustainable livelihood approaches strategies. How does focusing on inclusive livelihood can lead to economic development? What are the various ways of achieving the same? What are the innovative techniques of income generation? What are the existing scenarios in the global south? The track is further divided into the following sub-themes:
Economy of cities and its region
Sustainable livelihood of the global south: approaches, policies, case studies
Economic growth and cities of the global south
Track 2: Sustainable Infrastructure and Services
This track will look into the global south's sustainable urban infrastructure (social and physical), like housing, transportation, delivery of basic services, and its management. It will also focus on WASH's approaches, policies, and practices in the southern cities and its region. it will stress the questions of sustainable ways of transportation in terms of their social and environmental impact. How do accessibility, quality, and equity in WASH make cities clean, green, and healthy? How does a circular economy promote resource-efficient living? How is affordable housing contributing to the well-being of people?
WASH in the global south
Sustainable Transportation: towards green mobility
Affordable housing and real estate in the southern cities: policies, impact, and practices
Circular economy in promoting resource-efficient cities
Case studies
Track 3: Environment and Ecosystem
This track will answer the question of achieving climate-resilient cities. What are the approaches, policies, and innovative planning to reduce the impact of climate change? What are the challenges and solutions in making cities resilient to disaster? How can the differential impact of climate change and disaster be addressed? The theme is further divided into the following sub-theme to answer these questions specifically:
Climate-resilient sustainable cities- Adaptation strategies, present scenarios, and various approaches
Disaster Risk Reduction: Practice and policies in the global south
Case studies and best practices of inclusive resilient planning and management of cities and regions
Nature-based solution for climate change and disaster mitigation
Track 4 : Sustainable Settlement Planning and Development
This theme will answer the urban, peri-urban, and rural landscape questions and their dynamics. Role of migration in shaping cities? What are the dynamics of the city region? What are the challenges in sustainable settlement planning and approaches? Exploring the rural-urban linkages and livelihood perspective. It is further divided into the following sub-themes:
Dynamics of urban, peri-urban, and rural landscapes
Rural-Urban Migration: Impact and Management
Settlement Planning and Sustainable Land Use
Rural-urban linkages and its dynamics in development
Track 5 : Inclusive Urban Regeneration and Public Spaces
The track revolves around creating public spaces considering beauty, quality, accessibility, connectivity, and resilience for sustainable urban regeneration. How is place making changes over identity, culture, and geography? How can we address the challenge of inclusivity in sustainable urban regeneration through place-making? Gentrification and conflict between formal and informal placemaking. It has the following sub-themes:
Urban Regeneration: Social Inclusion and Equity
Age-Friendly and Gender-Sensitive Urban spaces
Sustainable placemaking: Policies and approaches
Track 6: Urban governance
Track 6 examines innovative planning and development approaches adopted for sustainability in the global south. How are the governance structure and policies in cities addressing sustainability? It will also focus on case studies, sustainable city framework, best practices, etc. This theme is further divided into the following sub-themes:
SDGs and urban policy alignment in the global south
Future sustainable cities- prospects and challenges
Innovative Governance Strategies for Urban Sustainability
Track 7: Urban capacity building and education
This track will focus on capacity building of the urban planner, managers, and decision-makers. Why is it crucial to address the issue of capacity building among urban professionals and create awareness among the young generation for a sustainable future of cities? It will discuss institutional and human capacity-building practices, impacts, approaches, and policies. It will also address the existing scenarios of planning education in the global south, its issues, and what can be done. This track is divided into the following sub-themes:
Capacity building of urban professionals in the global south
Planning education for sustainable urban development
Future of cities, planning education and urban professionals: approaches and strategies for way forward
All the attendees and presenters are required to register for the conference.

Registration Fee Includes:
Admission to the technical sessions
Admission to all Plenaries and Roundtables
All-Conference materials
An invitation to the Special event (cultural and dinner)
Tea/coffee and lunch
Certificate (only to the registered attendees and presenters)
Note: The conference fee does not include accommodation and airport transfer. Only limited accommodation is available on campus.
Cancellation Policy: The registration fees are not refundable in case of cancellation or non-attendance.