| Student Name | Roll Number | Title Of The Capstone Project | Faculty Guide | Abstract |
| --- | --- | --- | --- | --- |
| | | Transforming City Streets as Active Public Spaces through Placemaking | | This study aimed at the improvement of a selected streetscape where the street will serve as a multi-purpose network focusing on functional and inclusive public spaces via placemaking. The study also shed light on improving the existing infrastructure and livelihood regeneration by providing strategies for an inclusive street vending plan. The project explored the area adjacent to the airstrip of Bhubaneswar International Airport where the placemaking in the street will help in playing a significant role in making the road a great public streetscape. |
| | | Mitigation strategies for Urban Flooding- Case Study of College Street, Kolkata | | Kolkata is one of the cities which is having a record of extreme urban flooding events in the past few years. This study explored the College Street area to understand the urban flooding scenario in Kolkata city. College Street is one of the important areas of Central Kolkata which is an important hub for education, health, transport and the economy. From various evidence, it is observed that this area is suffering from improper drainage and sewerage problem and there are various other issues like no manholes for the water to pass through and no proper parking place which leads to congestion. The study identified the causes and effects of urban flooding in this area and provided various mitigation strategies to curb the urban flooding problem. |
| | | Steps towards Accessible and Safer Streets: Developing a Non-Motorized Transport Network Plan | | This dissertation project prepared a non-motorized transport network plan for Bhubaneswar for making the streets safe and increase accessibility for the users. The project provided a holistic framework recommending a set of detailed infrastructure-related plans and parking policy designs that need to be implemented in a phased manner in the city. The desired outcome of this framework would be to increase the percentage of choice riders of NMT. |
| | | Integrating Rivers in the City Planning Process: A Policy Framework for Integrate River Management with the City's Master Planning Process for the City of Cuttack | Prof. Tathagata Chatterji | Cuttack has expanded into the river, burying every possibility to improve it. Even the Government's and the Cuttack Development Authority's attempts have been futile due to a lack of institutional ability to enforce specific measures and instil behavioural changes in the individuals. Thus, there is a need for fresh river-centric thinking in river-bank development where the city master plan as it stands, does not sufficiently address this. Against this background, this project prepared a framework to integrate Urban River Management with the City's Master Plan by designing a Policy-based initiative. This will help the authority to Plan and Manage Urban Rivers within the ambit of the City's Master planning process in Cuttack. |
| | | Gender Inclusive Public Transport: A Case Study of Mo-Bus, Bhubaneswar | | The project developed a gender-inclusive public transportation plan for Bhubaneswar city. This would provide a holistic framework for the urban authorities to implement gender inclusivity in public bus services. For the purpose of the study, the Mo-Bus as an emergent urban service provider in Bhubaneswar city capital region is explored. This project established a common concept of shared passenger mobility and examines many elements that support and hinder shared mobility adoption in India and offers recommendations to assist construct and promote a shared mobility system in Bhubaneswar city. |
URBAN DEVELOPMENT PLAN STUDIO ( Batch 2022-2023)
URBAN DEVELOPMENT PLAN OF BHUBAN, DHENKANAL, ODISHA:
The Urban Development Plan (UDP) Studio familiarized the second semester MURP students with the process of preparing a development plan for Bhuban NAC in Dhenkanal, Odisha. This course provided a hands-on learning and understanding of the processes involved, and the challenges experienced during the formulation of a statutory plan. As part of the academic curriculum the students visited Bhuban for two weeks. They held detailed discussions with the Chairperson and the Executive Officer of Bhuban NAC. For better understanding of the existing situation of Bhuban, the students also conducted numerous household surveys, landuse- landcover survey, livelihood surveys, transportation, and physical infrastructure surveys. On 25th March 2023, the MURP students presented their detailed studio work including the existing data analysis, projections and proposals for Bhuban 2040. Prof. Tiyali Bose and Prof. Shraddha Kumar guided the UDP, Bhuban studio. The external jury for the final review were Mr. Sushanta Kumar Mishra, Director, Directorate of Town Planning, Odisha and Mr. Subhendu Kumar Sahoo, Chairman, NAC Bhuban.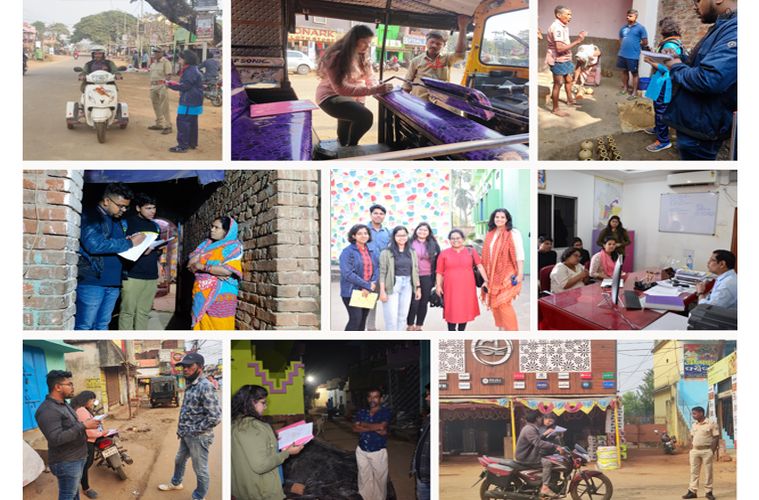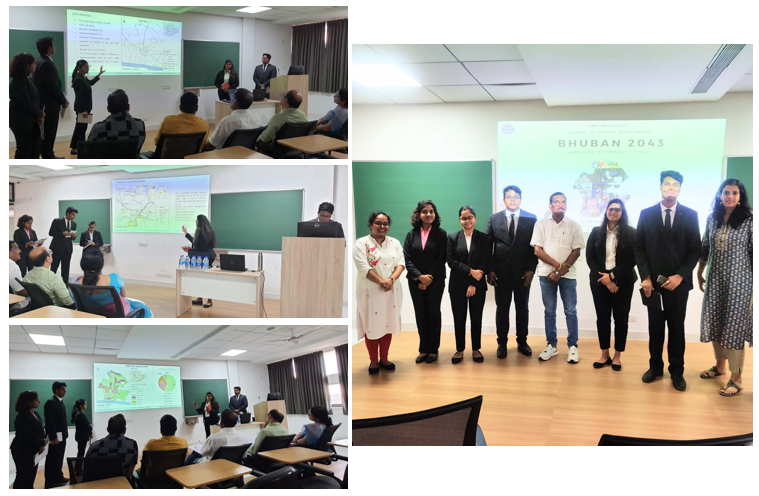 REGIONAL AND METROPOLITAN PLANNING STUDIO ( Batch 2021-2023)
DISTRICT DEVELOPMENT PLAN OF KHORDHA, ODISHA:
Regional and Metropolitan Planning Studio is a part of the Urban and Regional Planning course curriculum. This year the students of MURP (21-23) worked on the 'District Development Plan of Khordha' (DDP- Khordha). The DDP aims to bridge the regional disparity in the district by boosting its local economy. To get practical experience, the students identified the gaps in the developmental processes of the district by studying the existing issues and discussing them with various government officials. The students conducted field surveys to determine the potentiality of the district by evaluating the zone of influence, competition, regional disparities, resource region, regional infrastructure scenario, socio-economic condition, etc. In the final presentation, the MURP students successfully proposed various strategies and plans to boost the district's economy and reduce spatial disparity. Prof. Jublee Mazumdar and Prof. Arpan Paul guided the DDP-Khordha studio. The external for the final jury was the renowned town planner Shri Prasant Kumar Patnaik, Former Chief Town Planner of Odisha, who gave valuable feedback and highly appreciated the student's work.